---
For Sandra Aguirre, helping children learn Spanish at a local elementary school goes beyond fulfilling a requirement to be part of a club at Dixie State University.
"It's about giving back to the community," Aguirre said.
Aguirre, a junior health sciences major from Los Angeles, is the president of the Dixie Hispanic Student Association. Like every club at DSU, the DHSA is required to complete at least one service project each semester. Among other service projects, members of the DHSA volunteer occasionally at the Dixie Sun Elementary School by helping teach dual-immersion Spanish classes.
"The personal reward for doing service makes it all worth it," Aguirre said. "The teachers at [Dixie Sun Elementary School] are very grateful, and the students are just so adorable."
Members of the many other clubs at DSU find ways to give back to the community by coming up with creative ideas to serve, said Tim Long, a senior finance major from Hurricane and vice president of clubs and organizations. Combined, DSU's clubs have donated 439.5 total hours of service so far this semester, Long said.
Monica Harris, a junior English major from Alamogordo, New Mexico, said the DSU Gay-Straight Alliance volunteered at the special needs carnival in October and is currently raising money for the Salt Lake City LGBT Pride Center. The DSU Black Student Union helped out with the St. George Marathon and is planning to help feed the homeless in December, said Darius Mathews, a senior communication major from West Jordan.
Members of the Sustainability Club saw a need in the community for recycling bins and found a way to help solve the problem and serve at the monthly "George Streetfest" in St. George, said Trevor Anderson, a senior secondary education major from La Verkin.
"There wasn't any recycling bins at these events, which were generating a ton of waste," Anderson said. "Eventually, the city of St. George donated several large blue recycling bins for us to use at the streetfest. This has been huge for us and the streetfest."
Not only do the Sustainability Club's recycling bins reduce the amount of waste at the events, but it also helps community members learn more about sustainability and how to be more ecologically-minded, Anderson said.
"Our hope with requiring clubs to do service projects is to mix the community with the campus and to get clubs out there helping people in need," Long said. "It's just fun to help out other people and serve while promoting DSU and the clubs."
Aguirre said doing service projects as a club is a great way to keep members active and to network with members of the community.
"I'm as busy as anyone — working two jobs and going to school full-time," Aguirre said. "But serving is a great way to contribute to the community. It's contagious when you really get into it."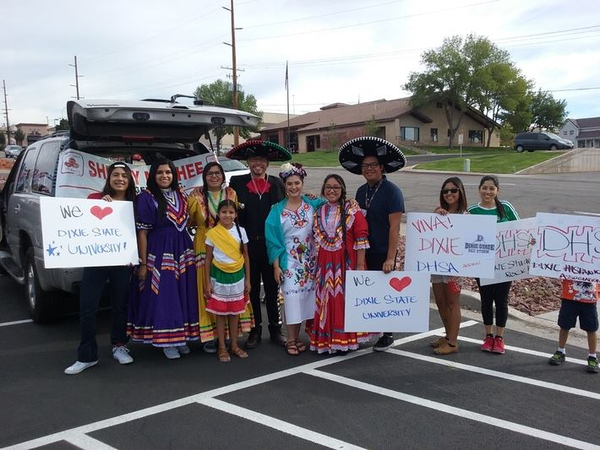 Members of the Dixie Hispanic Student Association pose with community members before the Homecoming Parade in September. The DHSA has participated in several service projects this semester, including volunteering at a local elementary school several times to help teach Spanish. Photo courtesy of DHSA.