---
Although it holds some of the biggest events for St. George's nightlife, Heart of Dixie and Dixie State University do not maintain a good relationship.

Heart of Dixie is an event production company based out of southern Utah. It's been around for about three years, and co-owner Jared Keddington said its sole purpose is to entertain people, specifically college-aged students. Its events are tailored to community members of all ages to 21 and over events. Heart of Dixie expects 4,000 people to show up to its Halloween party this year.

Keddington said Heart of Dixie's events have more of an appeal than DSU's events, and its events are a bit more relaxed. He said some of the events allow drinking for patrons who are of age.
Dean of Students Del Beatty said there is an issue with the Heart of Dixie and the university that has gone to court within the last month. There was a trespassing and littering ticket against the company after its members posted fliers on cars on campus, according to court documents.
There are currently no court documents that state an ongoing issue between the university and Heart of Dixie.
"We got in a lot of trouble for [putting fliers on students' cars], and I think we pushed it further than we really should have," Keddington said. "It's something I feel bad about, but at the same time, we were trying to get the word out to the college demographic. We weren't trying to offend anybody."
Keddington said a local disc-jockey was told by a university official that DSU wouldn't work with him if he ever collaborated with Heart of Dixie.
"I think there's definitely something going on to where we aren't allowed to work with the school," he said. "I don't really know what exactly went on or the political structure of the school, but I know we offended some people."
Andrew Eames, a freshman computer science major from Ivins, has DJ'd for Heart of Dixie, and he said it was a "thrilling" experience. He said it's difficult to be as successful as Heart of Dixie is considering the volume of events it handles.
"I know the university does have a code of conduct they have to adhere strictly to," he said. "It's tough to meet every single item on a checklist with such a big event that [Heart of Dixie] puts on."
Heart of Dixie is no stranger to controversy, as it was in hot water a year ago when police monitored an event that was held at Fiesta Fun Center and said patrons weren't allowed to dance. Keddington said he was told he needed a permit to hold an event on private property, but he wasn't told there could be no dancing.
St. George resident Mackenzie Whiting said Heart of Dixie's events are never dull.
"When I was 18, it was nice being able to go to events and not have to be 21," she said.
Keddington said Heart of Dixie's main purpose is to make sure people have fun.
"We're not here to say, 'Let's go out and get drunk and use a bunch of drugs,' or anything like that," Keddington said. "If you drink, that's your thing. We don't want people on drugs at our event, (and) we don't condone it or allow it. We want people to go out and have one of the best nights of their lives."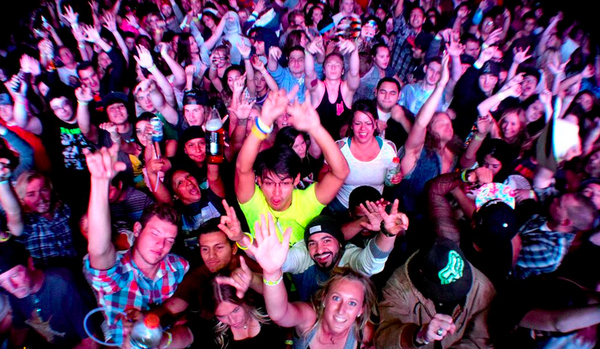 Partiers dance at Heart of Dixie's Bonfire Music Festival Oct. 3 in St. George. Despite its popularity, Heart of Dixie has faced previous legal disputes with Dixie State University. Photo courtesy of Heart of Dixie.