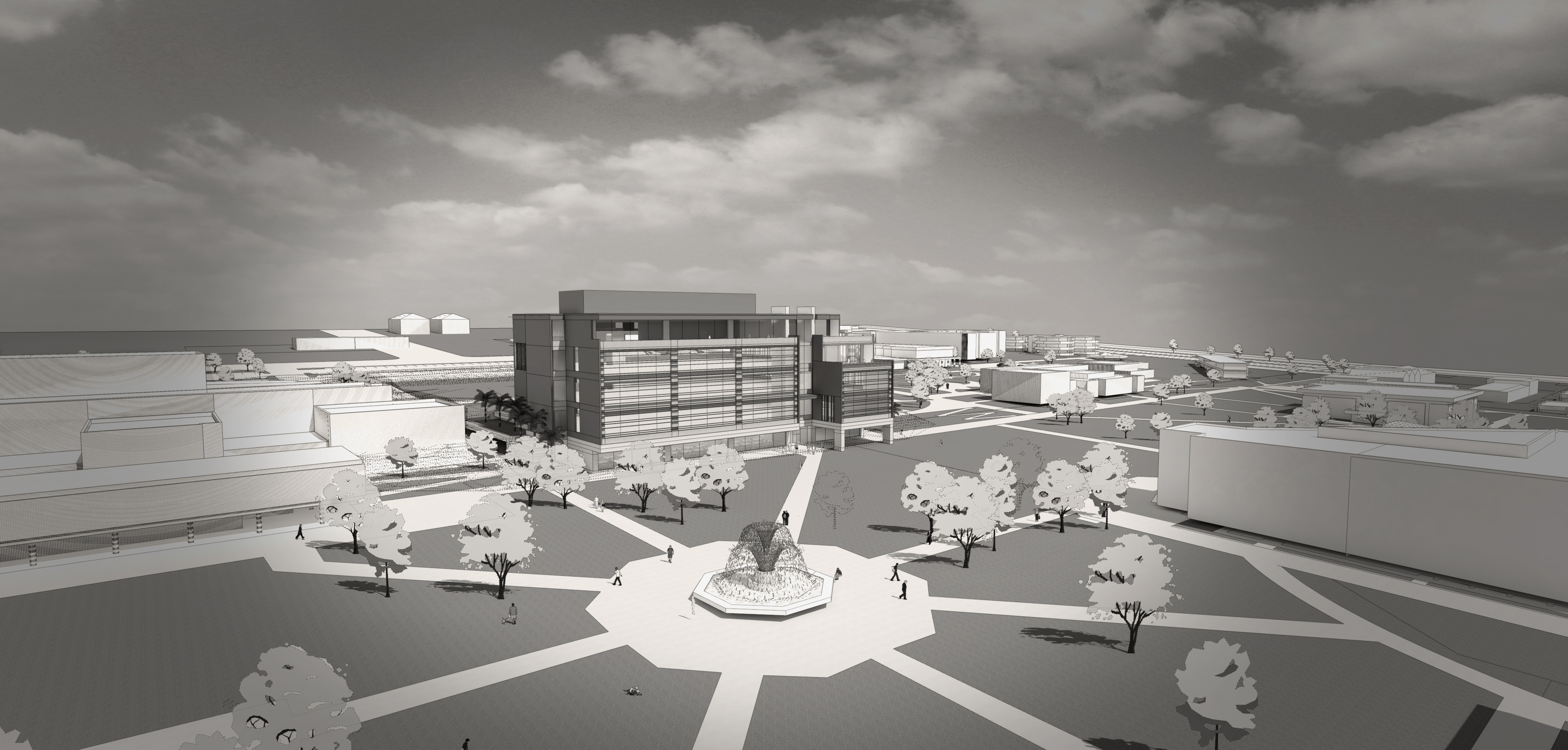 Rendering courtesy of Sherry Ruesch.
---
This legislative session, Dixie State University is seeking a record-breaking $57.9 million, the largest allocation for a building in DSU history, in order build a Science, Engineering and Technology building.
In order to get funded, DSU had to rank high with the state building board. DSU ranked No. 3 on the list for the state and No. 1 of any other higher education building. The Jeffery R. Holland Centennial Commons building set the previous allocation record at $35 million.
The funds, if approved, will be available on July 1. Construction for the SET building would begin toward the end of August, said Sherry Ruesch, executive director of facilities management.
The SET building will be located between the Dolores Dorè Eccles Fine Arts Center and the Snow Math and Science Center. The Performing Arts Building will be torn down for the SET building to be built.
Construction for the SET building and the takedown of the PAB should not interfere with students on campus, Ruesch said. Ruesch said the plan is to start the construction for the takedown of the PAB at the beginning of the process.
The SET building would hold classes such as biology, anatomy, digital anatomy and microbiology. Mechanical engineering, which is a new program on campus, will also be held in the new building.
Ruesch said programs will be enhanced with the new building due to having state of the art equipment.
"If you're a science or biology student and you currently go to classes in the old building, you know it's old and those labs are not the way they make labs now," Ruesch said. "If anything, as a university, we should be keeping up with what's used out there in the industry."
In the new SET building, a lot of lab equipment and lab rooms will be available according to David Christensen, assistant professor of mechanical engineering. Engineering, prototyping, advanced physics, thermal fluids, machinery and a project lab are some of the labs that will be included in the SET building.
Christensen said the engineering program plans on accommodating up to 400 students in the program if the SET building is built.
"Our program will have the space that we need to be able to teach our courses effectively," Christensen said. "As well as some space to grow."
"Our design policy for campus is to provide the best spaces for the students," Ruesch said. "This is a five-story building, so the view, locations and all the really great spaces will be student spaces, whether they be classrooms or study areas or lounge areas. The best spaces will be student spaces."
"Im excited to see what [DSU] will provide for us students with this new building," Colton Rosendahl, a sophomore biology major from Hemet, California, said. "This school continues to grow every single year and it makes it pretty thrilling to be at this school."