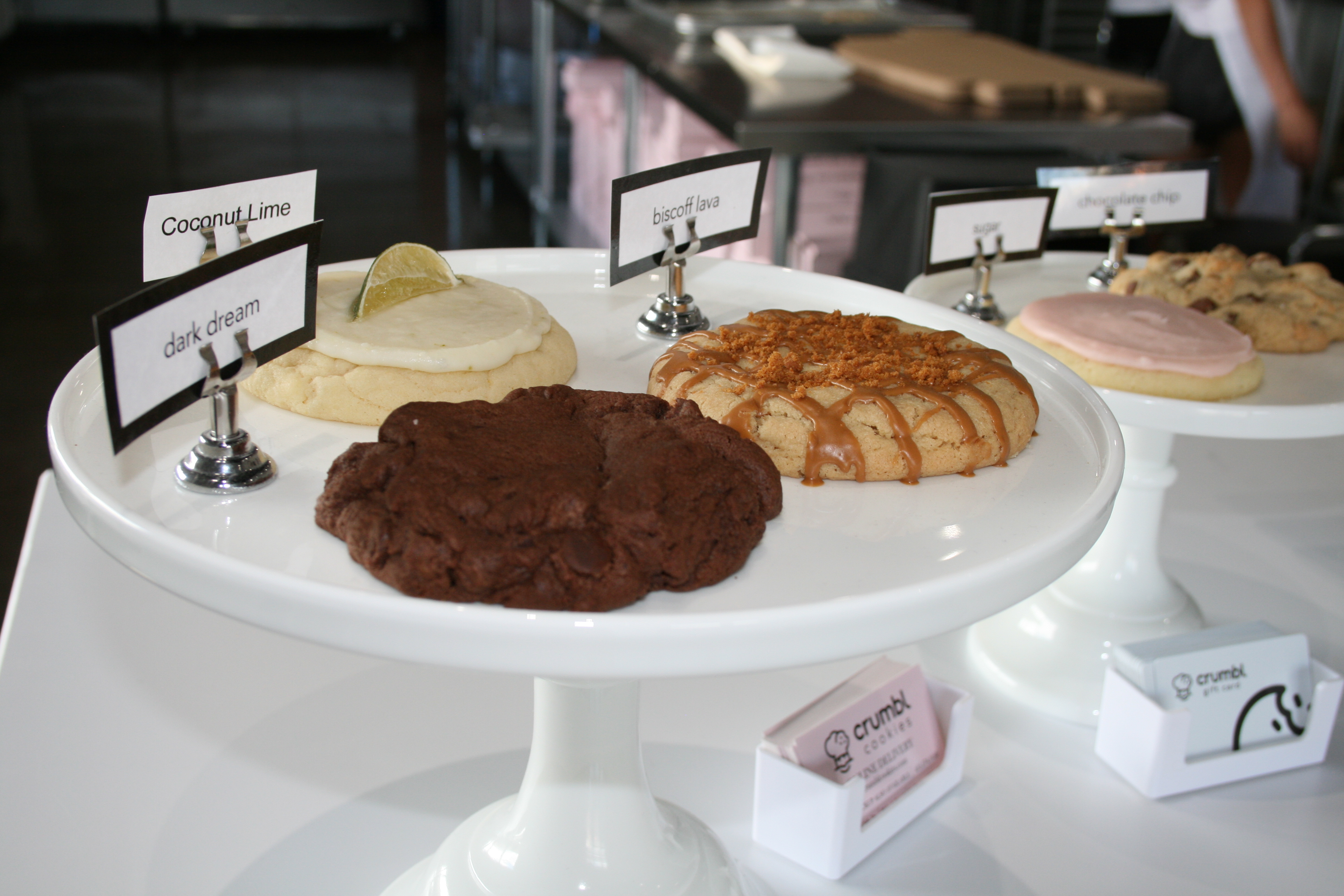 Crumbl is a new spot to get a treat in Saint George. It is a bakery where not only can you get a cookie, but you can get one delivered. Photo by Jessica Johnson
---
There is such a thing as a cookie so soft and fluffy, it practically melts in your mouth. At Crumbl, dedication and diligence in making a good product ensures the cookies are not just velvety, but just chewy enough you can eat one piece by piece.
Founded by Sawyer Hemsley, a former Utah State University student, and his business partner, Jason McGowan, Crumbl began as a start up in Logan and quickly gained popularity. The bakeries spread throughout northern Utah before opening in St. George on May 24.
When entering the store, the first thing you will notice is the kitchen because it is in front and visible rather than hidden in the back. It's like walking into Paula Dean's fantasy kitchen.
"People love that homemade feel," said Loralee Barrow, store manager and owner. "They love noticing that we're cracking the eggs and our kitchen has that open feel."
With the kitchen being open, and the baking happening where people can see it, it gives customers the feeling of being at mom's house when she's baking cookies, Barrow said.
Unlike other bakeries, Crumbl's cookies are not displayed in a case, waiting for customers to peruse over them before choosing what they want, nor are they stacked in a convenient Plexiglas box, with a door for individuals to grab as many as they please before heading to the cashier.
Instead, there are cookies on display on small plates next to the register. These plates have small tags attached with the name of each flavor, from warm chocolate chip to chilled sugar and coconut lime sugar cookie.
"Crumbl has a very professional look. baker Mattie Zeigler said. "All of the cookies on our stand look exactly like the ones we give to customers."
One of the more unique things about Crumbl is the cookies can be delivered to your home, the same way Domino's delivers pizza.
Jordan Rogers, a junior population health major from Twin Falls, Idaho, said, "When you're sitting at home and you're like, 'Ohh! I want some cookies, but I don't want to go get them,'  just deliver them because that will be just as quick."
But most unique of all are the cookies themselves. The chocolate chip cookie I had was warm, soft and chewy, and at over 5 ounces, it was larger than most cookies I've eaten. I could only eat half the cookie and saved the rest for later.
Crumbl begins baking the cookies at 5:30 a.m. and doesn't stop until midnight.
Every Monday, employees are given a new recipe to feature during the week, Zeigler said. These new recipes can be pretty unique in and of themselves. A few of the more interesting recipes have been strawberry lemon, Reese's peanut butter cup and  s'mores cookies, but these cookies aren't just made to taste like their names, rather, they are  baked precisely to achieve the desired taste.
"I just love this place," Rogers said. "I think it's a really good environment and everybody should have a chance to come in and try some of our cookies because they are really unique."
With tasty cookies and the convenience of optional delivery, Crumbl is one of the most unique cookie retailers in Utah. If you need to satisfy that cookie craving, go give these delicious cookies a taste.
Crumbl is located at 2654 Red Cliffs Drive behind Texas Roadhouse.