---
With Sarah Ramaker taking the reigns as student body president this semester, the three things she hopes to focus on during her term are unity, traditions and support.
A new Trailblazer app, additions to the Dixie State University Student Association, and new traditions are a few of the changes Ramaker said will help her achieve her goals this semester.
"We really want to foster a sense of unity on campus and promote the Dixie spirit," said Ramaker, a senior dance major from Midland, Michigan.
A new athletic branch was added to DSUSA over the summer to promote spirit at games and help pack the stands at sporting events, Ramaker said. Boosting student involvement at games was one of the points on Ramaker's platform when she ran for the position of student body president in the spring.
"Now that [the athletic branch] is part of student government, I can oversee that, and I can do my best to make sure that we do get people to support our teams," Ramaker said.
Another new faction of student government is the Institute of Politics and Public Affairs, which aims to get students registered to vote and involved in local and national politics by organizing events throughout the semester. Cameron Carlson, a junior integrated studies major from Bountiful and event coordinator for the institute, said the institute is an important step in legitimizing DSU, as many other universities already have a similar branch.
"We just want DSU to be leading in the state of Utah for having the most students registered to vote and who are informed and educated on the issues that effect them," Carlson said.
Ramaker said she also hopes more students will be involved this semester.
Colton "Moses" Campbell, a junior integrated studies major from St. George and vice president of public relations for DSUSA, said one of his biggest goals this semester is getting more students to participate in events on campus. He said he will accomplish this by upping DSUSA's marketing and promotions for events.
"When students come to events, they're kind of forced to meet new people that they wouldn't have met otherwise," Campbell said. "We feel like there is a really big benefit to that, especially for student retention."
Trailblazer Nation, a new app through SuperFanU on the iTunes and Google Play store, was the vision of DSUSA and the athletic department, Ramaker said. The app allows users to "check-in" at athletic events they attend. Users earn points for every event they attend, which can be redeemed for prizes like bumper stickers and T-shirts.
"This app is going to be something that can definitely change the game for our sporting events and make sure people feel excited about them," Ramaker said.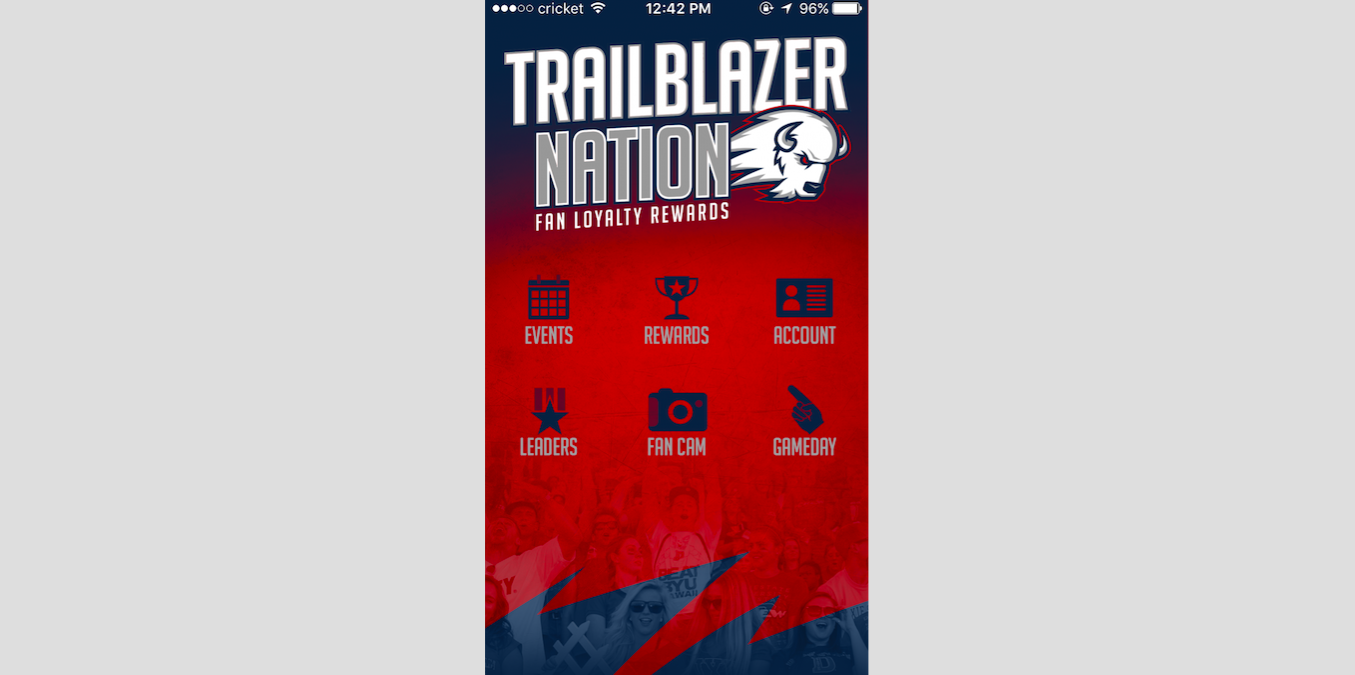 A screenshot of the new Trailblazer Nation app shows what users will be greeted with when opening the app. By awarding users points for every athletic event they attend at Dixie State University, Student Body President Sarah Ramaker said she hopes the app will boost student involvement at games.

Campbell said DSUSA will continue to use print media like fliers and signs to promote their events this semester, but they will be focusing more on building personal relationships with students. Especially with the new Trailblazer identity and mascot, Campbell said he hopes to see new traditions spread by word of mouth.
"We're going to be continuing a lot of traditions and tweaking some to kind of fit the new mascot and identity, and then hopefully, we can create some new ones too that will continue long after we're gone," Campbell said.
One potential tradition started when incoming freshmen filed past the bison statue in front of the Jeffrey R. Holland Centennial Commons and rubbed its nose at freshman orientation Friday.
Another initiative Ramaker said she is working on is a suicide prevention campaign called "Stop the Weight."
The details of the campaign haven't yet been finalized, but Ramaker said, "It is my hope to look into what we teach freshmen in their [first year experience] classes and see if we can further educate warning signs and things you as a student can look for in your fellow classmates."
Ramaker said she hopes her goals of promoting unity, tradition and support on campus will help DSU become the best it can be this semester as it continues to grow.
"We don't want to change the essence of Dixie and what makes us great," Ramaker said. "We just want to help more people experience it."